Computational analysis of cooling dynamics in photonic-crystal-based thermal switches
Journal of the European Optical Society-Rapid Publications
2016
12:1
Received: 9 November 2015
Accepted: 18 April 2016
Published: 23 June 2016
Abstract
The paper presents optical and thermal simulations of two kinds of thermally controlled silicon Photonic Crystal devices: an air hole in silicon slab that switches between two refractive behaviors, and a T-shaped circuit made by silicon rods in air that has an on-off behavior. Both effects have been obtained by increasing the device temperature, then exploiting the thermo-optic effect. Theoretical models of thermal dynamics, in particular for natural convective heat exchange on micrometric and sub-micrometric scale, have been validated by means of numerical simulations.
Keywords
Photonic crystalsThermo-optic effectScaling of thermal parametersPhotonic switches
Background
The control of light propagation in a Photonic Crystal (PhC) slab can occur through the modulation of several parameters [1]. Indeed, both structural parameters (as refractive index of constituent materials, array geometry, etc.) and light parameters (as incident angle, polarization status and wavelength) influence the light propagation inside the PhCs [1–3]. Fixed the light parameters, the refractive index varies with the temperature, according to the thermo-optic effect [4, 5]. Therefore, it is possible to control light propagation in a PhC by means of temperature variations. This paper presents theoretical results about two different thermally modulated PhC devices: a PhC slab based on air holes in silicon that exploits the negative refraction behavior [6, 7] and a T-shaped PhC circuit based on silicon rods in air that exploits the band gap properties [8]. Both devices have been simulated thermally and optically using commercial software, COMSOL multiphysics® and RSoft™, respectively. In particular, a rigorous numerical analysis of the cooling phase of these structures has been performed in order to determine the dynamic and the thermal time constant at micrometric and sub-micrometric characteristic length. In [9], the trend of the natural convective heat exchange coefficient h c has been obtained analytically from the relations between Nusselt (Nu), Reynolds (Re) and Prandtl (Pr) numbers at characteristic length in the range of (0.01÷1000) mm. In this range, the h c coefficient is inversely proportional to the characteristic lengths below 10 mm and almost constant for higher dimensions. In [10], an experimental validation at the same characteristic length has been reported. However, the interesting range of PhC-based devices was almost unexplored. In this paper, the cooling dynamics of sub-micrometric devices has been investigated using a thermal-fluid-dynamic approach. Results emphasize that the dominant contribution is due to the conductive mechanism, in contrast to the statements of J. Peirs et al. in [9]. Moreover, using thermo-optical effect and optical Finite Difference Time Domain (FDTD) simulations, the optical efficiency of two analyzed devices and the value of the switching bandwidth of both geometries have been calculated.
Methods
Changing temperature is a simple way to obtain a refractive index change and then a photonic modulation of silicon based devices. However, for macroscopic devices, the relatively slow heat diffusion in solids strongly limits their performances. In this frame, PhC devices are promising to overcome the problem, because they are constituted by an array of elements of micrometric or sub-micrometric dimensions. Before to simulate light propagation and calculate efficiency of two specific devices, two preliminary analyses have to be done. The first is needed to establish if and which thermal exchange mechanism is predominant in a generic pillar-based device. The second has been done to simulate both thermal and optical behavior for specific PhC structures.
Results and Discussions
As established in the preliminary analysis, the only conductive exchange has to be taken in account to calculate the cooling time and the bandwidth of two optical devices. In particular, performances and efficiency of the two PhC devices previously investigated have been carried out by using Finite Difference Time Domain (FDTD) software, namely Fullwave® (
https://optics.synopsys.com/rsoft/rsoft-passive-device-fullwave.html
) and Finite Element Analysis (FEA) software, Comsol Multiphysics® (
https://www.comsol.com
). Considering the PhC slab of air holes in silicon, with radius of 123 nm and period 640 nm (see Fig.
4a
), by increasing the Si refractive index of
∆n
 = 0.06, FDTD simulations show that the refractive status of the PhC structure changes, as shown in Fig.
6a
and
b
. Exploiting the thermo–optical effect [
5
], and considering that at wavelength of 1.55 μm the silicon thermo-optic coefficient is
δn/δT
 = 2.4 × 10
-4
K
-1
[
4
], the required increase of refractive index is obtained with a temperature increasing of
∆T
 = 250 K. Assuming that the heating of a sub-micrometric device can be induced in a very efficient way, for instance using an integrated resistor conveniently polarized or a laser pulse of appropriate wavelength, the bottleneck of such component is the cooling phase, especially if not assisted by active systems (forced convection, Peltier cooling modules…). Cooling dynamics simulations, according to the model described before, have been performed in order to calculate the typical thermal transient time and, as its consequence, the maximum switching frequency (Fig.
6c
). In this case the whole PhC structure has been simulated, by using the mesh shown in Fig.
6d
, where only four holes are depicted for sake of simplicity.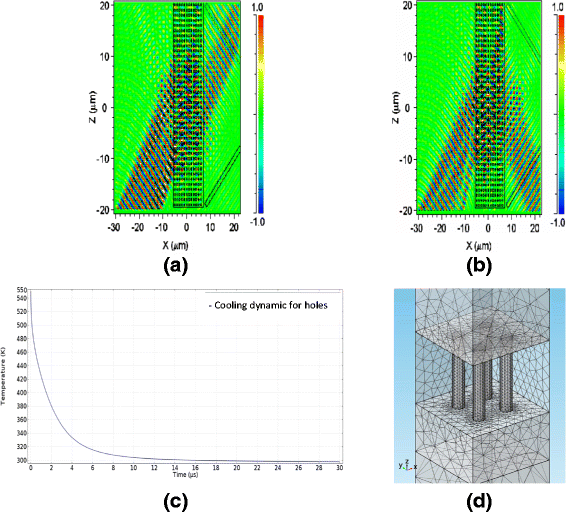 The second device with a Si pillars in air structure exploits the well knows band gap proprieties of photonic crystals. In a T-shaped circuit, as depicted in Fig.
5a
, monochromatic light is strongly confined into the path if his wavelength is included into the band gap range [
8
]. As previously explained, the band gap range is a function of the refractive index contrast between the two constituent materials (silicon and air). FDTD simulations show the influence on the optical path of a silicon refractive index increasing of
∆n
 = 0.08 (see Fig.
7a
and
b
). In this case, the increase of refractive index can be obtained with a temperature increase
∆T
 = 300 K.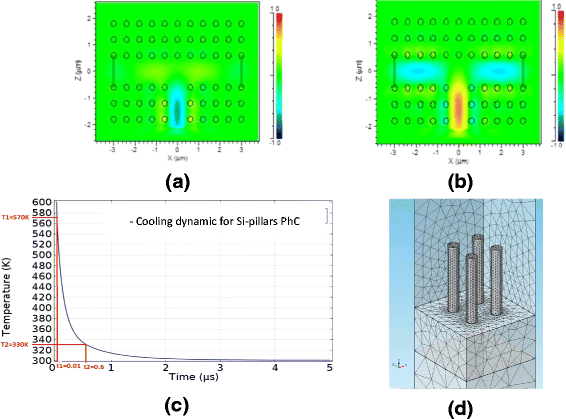 In this case, using the condition of predominant conduction in the heat transfer, simulations show (Fig. 7c) that the second structure has smaller thermal transient time than the first (about 2 μs versus 10 μs), in despite of a greater required temperature increase.
Conclusions
PhC devices can be controlled by changing their temperature: it is not particularly difficult to control it in an extremely small region (few tens of μm2). The optical efficiency of two analyzed devices is up to 80 % and the value of the bandwidth of both devices is in the range of hundreds of kHz.
Declarations
Acknowledgements
The research activity is supported by Italian Ministry of Education, University and Research (MIUR) through the AQUASYSTEM project, in the framework of the National Operational Program – PON.
Open AccessThis article is distributed under the terms of the Creative Commons Attribution 4.0 International License (http://creativecommons.org/licenses/by/4.0/), which permits unrestricted use, distribution, and reproduction in any medium, provided you give appropriate credit to the original author(s) and the source, provide a link to the Creative Commons license, and indicate if changes were made.
Authors' Affiliations
(1)
National Research Council, Institute for Microelectronics and Microsystems, Napoli, Italy
(2)
Department of Industrial Engineering, University of Naples "Federico II", Napoli, Italy