A single mode porous-core square lattice photonic crystal fiber for THz wave propagation
Journal of the European Optical Society-Rapid Publications
2016
12:15
Received: 2 May 2016
Accepted: 20 September 2016
Published: 1 October 2016
Abstract
Background
Interests on low-loss terahertz (THz) waveguides are increasing due to their remarkable applications in various fields. Since most the materials are highly absorbent to THz waves therefore it is an ongoing challenge to obtain a low-loss waveguide. This paper presents a novel porous-core square lattice photonic crystal fiber (PCF) for efficient transmission of THz waves.
Methods
The guiding properties of the proposed fiber are characterized by using finite element method (FEM) with circular perfectly matched layer (PML) boundary conditions.
Results
It is demonstrated that the designed PCF shows very low effective material loss (EML) of 0.076 cm-1 at 1.0 THz that indicates about 62 % reduction of bulk absorption loss of the background material. In addition to this, the proposed fiber exhibits low confinement loss of 8.96 × 10-3 dB/cm and low flattened dispersion of 0.96 ± 0.086 ps/THz/cm for the optimal design parameters. Other important propagation characteristics such as single mode propagation, power fraction, and bending loss are also investigated thoroughly.
Conclusions
A porous-core PCF is an efficient mechanism for the transmission of THz waves. The proposed low-loss and low-dispersion PCF can find numerous applications in THz regime.
Keywords
Terahertz guidanceRffective material lossConfinement lossSingle mode propagationFinite element method
Background
In recent years, enormous efforts have been paid to THz PCFs due to their applications in multidisciplinary fields including remote sensing [1], imaging [2], security screening [3] and THz time domain spectroscopy [4]. Development of low-loss and low dispersion THz PCFs enable variety of promising applications in biomedical technology such as non-invasive early diagnosis of skin cancer including the basal cell carcinoma [5], dysplastic skin nevi and melanomas of hardly-accessible skin areas [6]. Moreover, it can be employed for minimally-invasive diagnosis of colon tissue cancers [7] and intraoperative diagnosis of breast tumors [8]. Most of the THz communication systems use free space medium to propagate THz waves, which suffer from various types of problems. Strong water vapor absorption, misalignment issues and complex integration with other components are the major obstacles for efficient transportation of THz waves [9]. Researchers around the world develop various forms of waveguide structures to overcome these problems. However, due to the challenge of dealing with excessive absorption loss, the commercial production of efficient THz waveguide is lagging behind. A great deal of numerical and experimental researches has been performed in order to increase the reliability during the transmission of broadband THz waves through a guiding structure. For example, the theoretical characteristics and experimental measurements of groove guide structure have been demonstrated for low-loss THz signal transmission [10]. Mitrofanov et al. experimentally proposed a dielectric-lined hollow metallic waveguide for low transmission loss and low group velocity dispersion [11]. The attenuation and dispersion properties of coplanar transmission line (CTL) in the THz frequency bands have been experimentally presented in [12]. Wang et al. proposed bare metal wire waveguide having low average attenuation coefficient of 0.03 cm-1 [13]. Besides, PCF having background material as Teflon exhibited high absorption loss of 0.3 cm-1 at 1 THz [14]. The plastic photonic crystal fiber (PPCF) by Han et al. showed comparatively higher loss about 0.5 cm-1 at 0.6 THz [15]. Recently, silicon photonic-crystal slab waveguide has been demonstrated having extremely low propagation loss of 0.04 dB/cm at 0.33 THz [16]. Very recently, PCF based on sapphire shaped crystal has been proposed for efficient THz guidance. This PCF showed low power extinction coefficient of 0.02 ± 0.015 dB/cm at 1.45 THz with minimal dispersion between 1.0 and 1.55 THz [17].
Recently, tremendous success has been achieved in engineering of the guiding properties of THz fibers by using relatively smaller air holes (smaller than operating wavelength) in the core of the PCF. Such types of structures are known as porous-core PCFs. Porous-core PCFs have gained increased attention due to freedoms for tuning EML, dispersion and confinement loss in a smart way [18]. The wave propagation through porous-core PCF is based on the non-absorbing nature of dry air. Using this formulation, making a tight light confinement in the core and sending most of the mode power into the porous-air holes can greatly reduce the absorption and confinement loss. With this in mind, a few remarkable PCFs have been reported to date. A porous-core honeycomb THz fiber has been proposed by Bao et al. [19] that exhibited low material absorption loss of 1.5 dB/cm at 1.0 THz. However, maintaining of periodicity during the fabrication of honeycomb structure is too difficult. Porous-core octagonal PCF has been reported by Kaijage et al. [20] that showed low EML of 0.07 cm-1 at 1.0 THz. In this work, the authors have not considered few crucial guiding characteristics such as dispersion and power fraction. A hexagonal PCF with hexagonal porous-air holes has been proposed in [21], where the reported EML was comparatively higher about 0.12 cm-1. Very recently, a porous-core kagome lattice PCF has been reported in [22] using hexagonal lattice air-holes in the core. This PCF showed very low EML of 0.035 cm-1 at 1.0 THz. However, owing to complex structure fabrication of kagome lattice PCF is limited. The structures proposed in Refs. [23–25] also represent noticeable improvement in terms of EML, confinement loss and power fraction. Although promising porous core PCFs have been proposed based on the triangular lattice, a square lattice PCF has never been reported in the literature. Therefore, it is quite interesting to observe how the guiding properties of square lattice differ from a regular triangular lattice. The square lattice PCF permits easy fabrication process since it can be realized with standard stack and draw technique [26, 27]. Moreover, technological feasibility of the square lattice PCF has already been demonstrated in Ref. [28].
In this paper, to the best of our knowledge for the first time, we introduce a new design that consists of square lattice in both outer cladding and inner porous-core. It has been demonstrated that by properly tailoring the fiber's design parameters EML can be lowered significantly, while other guiding parameters such as confinement loss and power fraction can be kept above acceptable limits. In addition to these, single mode guidance and bending loss characteristics of the proposed structure has been analyzed rigorously. The design methodology of the proposed PCF has been discussed in section 2, simulation results and discussions are explained in section 3, and finally conclusion is summarized in section 4.
Design guidelines
The design schematic of the proposed square lattice PCF is shown in Fig.
1
with enlarged view of porous-core. As clearly shown in the figure, square lattice has been used in both outer cladding and inner porous core to form the complete structure. Here, both outer and inner layer is formed by circular air holes with isosceles square unit lattices. It is seen from Fig.
1
that, D
core
indicates the side length of inner square lattice. The hole-to-hole distance and diameter of air holes in the outer lattice are denoted by

(pitch) and
d
0
, respectively. On the other hand, hole-to-hole distance and diameter of air holes in the inner lattice are denoted by

and
d
c
, respectively. It is important to note that the value of pitch in the same ring and two adjacent rings are kept identical which is also indicated in Fig.
1
. In this structure, a relationship is made between

and

to D
core
so that changing of D
core
can automatically adjust the value of inner and outer pitch. These parameters are related by

 = D
core
/1.5 and

 = D
core
/10.5, respectively. For a preset value of D
core
, several simulations were done to adjust the pitch values. The pitch values have carefully selected so that air holes of core and cladding region do not overlap each other. Moreover, selection of these pitch values provides best results in terms of EML and power fraction. It should be mentioned that using other values of

and

might result poor confinement of light in the porous-core and higher value of EML. The air filling fraction (AFF) in the outer lattice
d
/

is kept constant as 0.95. This higher AFF results lower refractive index around the core, which makes strong light confinement in the porous-core region [
23
]. The diameter of inner air-holes
d
c
is determined by the porosity, which can be defined as the ratio between total areas of porous air holes to area of core. The number of air-hole rings (
N
r
) is chosen as 6 since this value is sufficient to provide low confinement loss.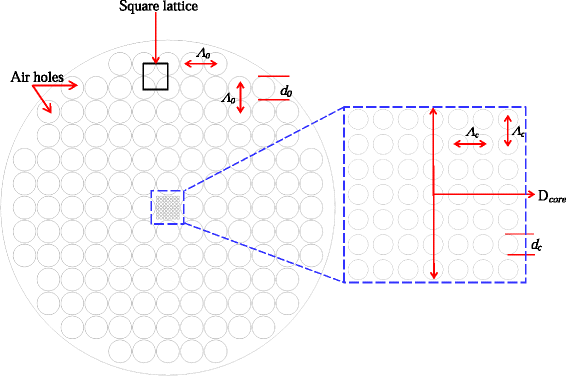 The whole PCF is based on cyclic-olefin copolymer (COC), which is commercially known as TOPAS. Compared to other polymer materials (such as PMMA, HDPE, PP etc.), TOPAS provides few definite advantages. It shows nearly constant refractive index over 0.1–2 THz frequencies [19]. Moreover, it shows low dispersion, low confinement loss and good protection against water vapor absorption [29].
Methods
The commercially available FEM based on state-of-the-art COMSOL v.5.0 has been used to design and characterize of the proposed porous-core square lattice PCF. To calculate the confinement loss a circular perfectly matched layer (PML) boundary condition has been imposed in the outer cladding. About 58,546 triangular elements and 6,124 edge elements have been used to represent the complete mesh. The average element quality has used about 0.96. The minimum element size has been fixed about 0.81 μm, which is enough for mapping different sizes of air holes. Throughout the simulation, finer element size has been used to obtain greater degree of accuracy. During the simulation the bulk material absorption loss of 0.20 cm-1 has been inserted, which is comparable with the experimental results reported in [19]. Dry air is the most transparent medium for THz waves having almost no absorption (αm = 0) in THz frequency bands [18, 30]. Therefore, absorption loss of air has not been taken into account during the calculation of different losses. It should be mentioned that losses of the proposed fiber have been studied for THz electromagnetic wave intensity.
Results and discussions
Finally, we would like to address the fabrication possibilities of the proposed square lattice THz fiber. It should be noted that by using the conventional stack and draw technique it could be possible to fabricate square lattice PCF. Since this standard method has been already employed to square lattice PCFs [26–28]; therefore, this technique would be a good choice to fabricate the proposed structure. The edge-defined film-fed growth (EFG) or Stepanov technology would be another viable solution to fabricate the square lattice PCF [33]. This technology has been already employed in [17] in order to obtain high quality fiber cross section. To our knowledge, these two verified techniques [17, 33] should be enough for practical realization of the proposed square lattice PCF.
Conclusion
In summary, a new square lattice based porous-core PCF has been proposed and its guiding properties are characterized with varying of different structural parameters. A thorough numerical investigation has been performed to obtain very low EML of 0.076 cm-1 and low confinement loss about 8.96 × 10-3 dB/cm at 1.0 THz. The single mode propagation of the proposed design has been justified for different core porosities and core diameters. The structure is feasible in terms of fabrication due to its realistic size and contains only circular air holes. All these characteristics make this porous-core square lattice PCF a potential candidate for applications in efficient THz wave propagation.
Declarations
Acknowledgements
The authors would like to thank anonymous reviewers for their valuable comments to make the paper suitable for publication. The authors are grateful to Mr. Mohammad Harun Or Rashid for his help to make grammatical corrections.
Funding
The article processing charge has been waived by BioMed Central.
Authors' contributions
MRH designed and performed simulations, analyzed data and finally drafted the manuscript. MAI performed simulations and prepared the revised manuscript. AAR edited and finalized the manuscript to be published. All authors read and approved the final manuscript.
Competing interests
The authors declare that they have no competing interest.
Open AccessThis article is distributed under the terms of the Creative Commons Attribution 4.0 International License (http://creativecommons.org/licenses/by/4.0/), which permits unrestricted use, distribution, and reproduction in any medium, provided you give appropriate credit to the original author(s) and the source, provide a link to the Creative Commons license, and indicate if changes were made.
Authors' Affiliations
(1)
Department of Electronics & Telecommunication Engineering, Rajshahi University of Engineering & Technology, Rajshahi, Bangladesh
(2)
Department of Physics, Rajshahi University of Engineering & Technology, Rajshahi, Bangladesh
(3)
Integrated Lightwave Research Group, Department of Electrical Engineering, University of Malaya, Kuala Lumpur, Malaysia